AppCheck accounts each have a "Concurrent Scans" limit, which acts as a cap on the maximum number of scans that may be in progress (what counts as a scan in progress is detailed below) at any given time within a given customer account. The scan concurrency limit is initially agreed between a customer and their AppCheck account manager on subscribing to the AppCheck service. If you are not sure what this limit is you can contact your account manager via https://appcheck-ng.com/get-help/contact-support/.
Which scan status count towards the scan concurrency limit? Do paused scans count towards this limit?
Scans that are running, launching or paused will all count towards your concurrent scam limit. The reason that paused scans count towards the concurrency limit is that they are not cancelled but remain in a standby state within server memory in order to enable fast resumption as required - meaning that they continue to consume server resources even while paused.
If you wish to start a new scan but your account does not have capacity to do so due to the existence of one or more scans in a paused state, you can opt to abort one of the paused scans in order to free up capacity. Aborting a scan abandons the scan and prevents future resumption of the scan instance without a full relaunch from scratch.
Do scans that are still in progress but not within an active Scanning Window count towards the concurrency limit?
When configuring a scan it is possible to set permitted scan windows for the scan - that is, times that the scan is permitted to run (within the window) and times that the scan should not run (outside the window). This functionality is detailed in the User Guide and is aimed at supporting business needs for the prevention of scanning during eg critical business operational hours.
If a scan is running but hits the bounds of its permitted scan window, then the scan is changed to a paused state for the duration that it is outside its permitted scan window. This means that - as with scans manually paused via the web admin interface, such scans will count towards an account's concurrent scans limit in exactly the same way.
What happens if I try to manually start a scan when I am at my concurrent scans limit?
If you attempt to launch a new scan when your account is already at its maximum number of running (and paused) scans permitted under the account's scan concurrency limit, then you will receive the message "Scan could not be run - You are already running the maximum allowed number of scans." as pictured below: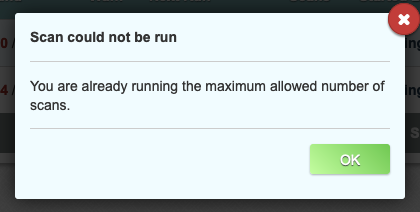 What happens to a scheduled scan if the scan concurrency limit has already been hit when it is due to resume within its next permitted scan window?
In this case the scan will not run, and you will not receive a notification. For this reason you should be careful when scheduling your scans - try to stagger them to avoid having too many running at the same time.
Can I change my scan concurrency limit?
This is often possible. If you wish to discuss changing your scan concurrency limit then please contact your account manager via https://appcheck-ng.com/get-help/contact-support/. Please be aware that due to the overheads entailed by a higher scan concurrency limit, your account manager may need to discuss your agreed commercials in order to support lifting the scan concurrency limit